WEAPONS
VEHICLES ITEMS SUBSTANCES CURRENCIES HOME

---
Aside from the usual array of weapons found amid medieval cultures, there are a number of unique designs created by the numerous races that inhabit Rym. Some of these have always been weapons, others merely tools adapated in times of need. In any case, workmanship varies just as it does with any other item, often (but not always) modifying the cost accordingly. The diversity of hand and finger styles also make certain items harder to use if they're not build specifically for the species in question. An example of this is the cepn wingblade, which is anatomically designed and is of little use to any other species without wings. Likewise, many other races lack the intelligence to make use of hoomiku weapons, which make use of salvaged technologies and alien materials.
---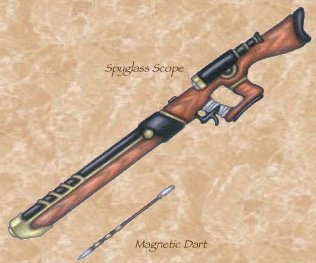 LODEBOW
Manufacture: Hoomiku
Composition: Wood, brass, ceramic
Energy Requirement: One Type II Cell
Cost: 2000 Coin (10 Coin/Dart) Availability: Rare
The lodebow was one of the first weapons cobbled together by the survivors of the Haizat wreck. Quite archaic by their old standards, the weapon made use of salvaged antigravity rings from the colony ship's engines, optics stripped from smashed equipment, and basic rifle design. The lodebow is now the standard weapon of hoomiku Machine-hunters, able to strike from beyond the range of most energy weapons. A charged, metal-banded dart is manually fed into the back of the weapon and locked into place by a mechanical iris. When cocked, the adamas interior chamber housing the dart slides back to expose a series of powerfully-charged magnetic rings. Any time thereafter, when the trigger is depressed, the metal iris holding the dart snaps open and releases projectile into the repulsion stream. Each of the rings doubles the dart's velocity, until it is shot from the weapon's barrel with a loud thump of displaced air. The sheer impact of the dart can knock down an ogre at close range, and the immense recoil will flatten anyone not carefully positioned to fire.
As damaging as it is, the lodebow's main attraction is its astounding range, more than double that of a standard longbow. A small spyglass is fastened to the weapon's flank, allowing a close-up view of enemies hundreds of feet away. This spyglass is aligned perfectly with the barrel to ensure an accurate shot. The weapon's drawbacks are its extremely slow rate of fire, its weight, and its cost. Lodebows are also quite difficult to aquire, as it is illegal for hoomiku to sell devices to others not of their race. They are used primarily as Machine-hunting weapons.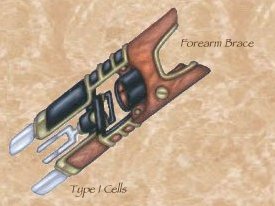 SOUND CANNON
Manufacture: Hoomiku
Composition: Wood, brass, ceramic
Energy Requirement: Two Type I Cells
Cost: 6000 Coin Availability: Rare
The sound cannon, or 'howler', is actually a tool, a portable harmonic resonator used to soften and shatter the sandstone in which the crashed hoomiku colony ship is buried. It emits a focused, high-frequency tone that can be directed at targets up to thirty feet away without harming the operator or the surrounding environment. This soundwave is capable of shattering certain substances, namely those vulnerable to high-frequency sound, such as crystal, glass, ceramics, and certain types of soft stone. It is strapped to the forearm and fastened with leather bindings. Like many hoomiku devices, the sound cannon requires power in the form of charges, similar to those of a wand (see Energy Cells). One emission requires one charge.
Thought not meant as a weapon, the sound cannon can be used on living beings to great effect. It generates the equivalent of a 'Shout' spell, with the same range and effect. However, as it was never intended to be used in combat, its rate of fire is incredibly slow. It takes the resonator fork a full turn to charge between emissions. The other drawback is the device's weight - roughly fifty pounds. Most of these devices are mounted on tripods when in use. If they become available on an open market, they tend to be very expensive.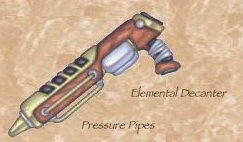 HYDRO SHOVEL
Manufacture: Hoomiku
Composition: Wood, brass, ceramic
Energy Requirement: One Type II Cell
Cost: 4500 Coin Availability: Rare
The hydro shovel, like the howler, was designed to dig through soft stone. It functions just like a 'Decanter of Endless Water', emiting a high-pressure stream capable of carving through the sandstone tomb in which the hoomiku colony ship is buried. The device creates considerable back-pressure when fired, and must be braced with both hands. Hydro-shovels can also be used to wash off or liquify soft debris when used at 'safe' ranges; about thirty feet or more.
Like the sound cannon, the hydro shovel wasn't meant to be used as a weapon, but may be employed as such under certain circumstances. The high-powered water jet will kill most vermin and insects, and drive off most medium-sized animals. Small and medium bipeds are easily knocked down by the stream if it stays trained on them. If within ten feet of the operator, lighter targets will actually be pushed back.
GORG PIPE
Manufacture: Gorg
Composition: Ceramics, Gold
Cost: 100 - 10000 Coin Availability: Common
Gorgs aren't known for their temperence. Why smoke just one cigar at a time when you can smoke three? Or five? Any self-respecting gorg has at least a little experience in combining different flavors of smoke. Gorg pipes are usually ornate and highly decorative, crafted of exotic ivories, metals, and precious stones. They are generally a reflection of the gorg's own personal tastes and spending power - some can cost thousands of coin. Other races that try to make use of these pipes often find themselves dying early of a suffocating disease, something the gorgs find hillarious. In many ways, the pipe is also a holy item in gorgish culture, often burning hundreds of coin worth of cigars in a day. Essentially, this is their religion's version of incense. It is also large enough to be used as a weapon, both to bludgeon, and to burn/scar/brand opponents.
Another aspect of cigar culture is the igniter, a small elemental conduit used to light up. With the flick of one's thumb, a bright blue flame springs from the device's small elemental decanter, allowing even the most inept of individuals to start a fire (a popular item for 'adventurers'). The flame generated it wind-proof and will basically last for as long as the golden trigger is depressed. Igniters are just another trivial magic item crafted by the Arcanar Guild, usually decorated to match the owner's pipe.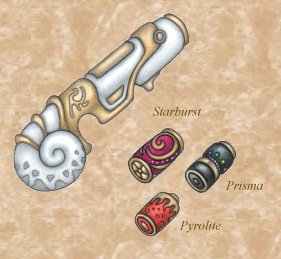 SHELL CANNON
Manufacture: Gorg
Composition: Ceramics, Gold, Powders
Cost: 7000 Coin Availability: Uncommon
Developed for the Tamaran arenas by the Arcanar guild, these devices are simply glorified launching mechanisms meant to deliver a variety of fireworks, or pyrotechnic shells. These shells are also made by the Arcanar guild, and come in near-endless varieties and colors (the most common three are shown here). The shell is unwrapped and manually loaded into the front of the cannon, then ignited by an internal sparking wheel. Most shells contain two charges - a launch charge meant to propel the canister to a safe distance, and a burst charge to create the effect itself. The cannon is specifically designed to absorb and channel the blast of the launch charge - trying to set shells off in any other way presents grave risk. The device was never really intended to be a weapon, but it doubles as such if loaded with the right type of shell.
Starburst: This explosive shell bursts as a Magic Missile, splitting into five brilliant motes which strike up to five random targets within 30 feet of detonation. The same 30 foot radius is also affected as per the spell Glitterdust. Both these spell effects are considered to be of 10th level power. Starburst shells are the most common, generally used to supplement larger displays. Cost: 150 Coin
Prisma: Packed with phosporescent powders of every imaginable hue, these two-chambered shells contain a dual burst charge. They explode in a marvellous nebula of colors, dazzling arena crowds and party-goers with a 10 round Rainbow Pattern effect. The color nebula is 30 feet across and can completely mermerize smaller crowds (up to 24 HD), slowly drifting to the ground over the course of a full minute. Cost: 250 Coin
Pyrolite: Phosphorous and red sulfur give this shell an incindiary kick, generating a Pyrotechnics effect in a 120 ft. radius for 1d4+1 rounds. Anyone caught in the crimson spark shower are not only blinded (Willpower DC 15), but also set on fire unless a successful reflex save (DC 15) is made. Fire does an additional 1d6 damage on the following two rounds unless extinguished. These highly-explosive shells are typically detonated high above the crowds, where their effects are simply dazzling instead of blinding. Cost: 300 Coin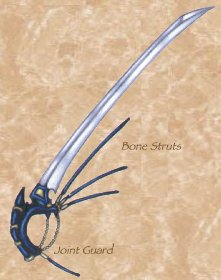 WINGBLADE
Manufacture: Cepn
Composition: Clocksteel
Cost: 600-1000 Coin (often more) Availability: Restricted
The wingblade is the trademark weapon of the cepn Razors. Composed of an thinly-layered adamas alloy, the blade is both light and remarkably durable, with an edge sharp enough to slice through falling paper. The cepn stole the secrets of adamas from the Arcanar, and while unable to work the metal itself without their elemental forges, they were able to combine the black steel's filings with other metals to create the alloys used in the blade's construction. The wingblade is unique to the cepn, its mounting surgically implanted into the main wing joint of promising young assassins. Thin metal struts are pushed down into the hollow wing bones, and the joint guard is stapled into the leathery flesh and allowed to heal over. This process is agonizing to say the least, but the result is a weapon that is as much a part of the cepn as tooth or claw.
The truly fearsome aspect of this weapon is its speed. Most wingblades are actually concealed within a groove in the main outer wing bone, allowing a seemingly unarmed Razor to lash out much like a praying mantis, using paired blades to deliver deadly strikes on an unsuspecting foe. In effect, the cepn's outer wing bone becomes the weapon's sheath. As might be expected, this weapon cannot be disarmed, though it may be dismantled for sharpening, replacement, or upgrade.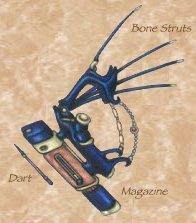 SNUB BOW
Manufacture: Cepn (stolen from hoomiku)
Composition: Clocksteel, Wood
Cost: 2000 Coin (often more) Availability: Restricted
The snub bow, much like the wingblade, is mounted on a permanent, surgically-attatched brace. It is the second most common weapon employed by the Razors, specifically designed for close-quarter assassinations. While it lacks the elegance and concealability of the wingblade, this small, compact crossbow is just as deadly. Unlike its conventional counterpart, the snub bow relies on a clocksteel spring to propel its dart, which is generally too small or light to inflict much damage at ranges over twenty feet. Rather, a powerful poison is typically applied to the darts within the weapon's rear-mounted magazine - a clever contraption stolen from the hoomiku. Each pull of the trigger causes the round magazine tube to be rotated one notch, positioning a new dart for immediate firing. The snub bow is cocked manually, almost like a sub-machinegun.
The snub bow is conasiderably faster than a standard crossbow, though the spring has only a fraction of the power and range. It is generally used as an assassination tool, when the target is unaware. The weapon is astoundingly quiet, emiting only a dull thump when fired, and a minute click when cocked. The magazine holds six darts, each of which brushes against a poison-soaked sponge (see poisons below) as it slides into firing position. When the magazine is empty, a full round is required to reload (no other actions possible).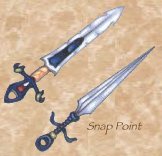 MURDERSPIKE
Manufacture: Cepn
Composition: Steel
Cost: 50-100 Coin Availability: Rare
The murderspike is yet another trademark tool of the Razors' guild. These ceremonial daggers are often employed in ritual combat among the cepn, or when stabbing people in the back. Some are flat-bladed and used for throwing, while others have a triangular blade which creates wounds that will not readily close. The main feature of the murderspike, however, is its brittle joining. With a sharp twist, the assassin can break off the dagger's handle and flee, leaving the fluted blade to finish off the victim. The murderspike's blood-channels are designed in such a way as to create an anchored, faucet-like opening that is nearly impossible to remove. Without a handle, the slick steel blade cannot be removed without considerable time and effort, especially if the wielder plants it somewhere out of reach (the back, for instance). Also, because the blade typically draws blood from deep within the body instead of at the surface, no clotting takes place.
Due to the complexity involved in the weapon's creation, namely the honeycombed steel and unusual grooving, murderspikes are quite expensive. Once broken, they cannot be repaired, though the hilts are often kept afterwards. In fact, most cepn have them made with a specific enemy in mind, often going so far as to have the name etched into the handle. It is considered a very ill omen when one of these weapons fails to kill its target.

WING SPURS
Manufacture: Cepn
Composition: Clocksteel
Cost: 250 Coin (often more) Availability: Restricted
The wing spur is another example of exclusive Razor weaponry, used in conjuction with the wingblade. Like their larger cousins, these barbed spurs are permanently attatched, typically to the very tip of the wing as opposed to the main joint. As with the wingblade, they may be individually removed for cleaning, sharpening, or replacement. Wing spurs are used much like the wingblade, snapped out when ready for use. Most come in sets of three, though variations exist. Each individual spur is fluted like a snake's tooth, and fitted with a tiny capsule of venom. When agitated (snapped out), centrifugal force pushes the venom through a semi-porous cap and into the hollow channels in the spur, poisoning it.
The spurs are too small and awkwardly placed to make effective weapons on their own. Instead, they follow-up on any wingblade strike, adding a touch of poison. The spurs are only good for a few hits, at which point their venom is expended and they must be carefully refilled. They may not be employed in conjuction with any other weapon, or on their own.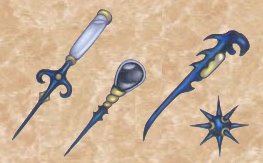 POISONERS
Manufacture: Cepn
Composition: Clocksteel, Glass
Cost: 10-100 Coin Availability: Rare
Cepn are great poison enthusiasts. So much so, in fact, that they don't trust ordinary food and drink anymore (eating is seen as a weakness). The real, sure-fire way of delivering a deadly dose of some foul venom is injection, and to these ends, a variety of ornamental fighting needles have been developed as the vessels of choice. Most of these poisoners are highly decorative, and endless variations exist. Most are long and thin, meant to slip through armor easily. Each is basically a hollow clocksteel spike connected to a poison-filled vial. Barbs near the hilt open the needle's hollow interior and deliver the deadly contents directly.
When fighting with poisoners, the idea is concealment. Often a shallow by painful dagger slash is used to distract the victim from the real deathblow, delivered in a subtle sleight of hand. Most of these needles are small enough to hide in the palm, though some may be larger and more obvious, used in ritualized duels where a single strike decides the victor. There is even a caltrop variation, which releases its poison when pressure is applied to the protruding tines.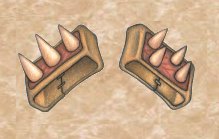 KICK SPIKES
Manufacture: Koba
Composition: Wood, bone, leather
Cost: N/A Availability: Uncommon
One of the few weapons employed by the unsophisticated koba, these foot bands are composed of simple materials such as wood, bone, and leather, and used to augment the impact of the reptillians' already-formidable kick. The spikes face out over the top of the foot, splayed by the curvature and wide enough at the base to sustain even heavy impacts. They are usually made from the fangs or sharpened bones of large animals, and while appearing quite crude compared to metal cesti, the spikes are capable of punching through plate armor. The heavy support band is made from thick, well-oiled hide, wrapping snugly around the middle of the foot and cinched tight with rawhide. These weapons are rare, however, as most koba prefer to fight until subdual or submission rather than to the death. Variants have also appeared in the Tamaran arenas, including spike bands for the tail, knees, and even forehead, allowing a charging koba to gore like a bull.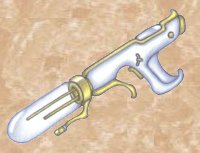 CATHODE GUN
Manufacture: Creator
Composition: Ceramics, Gold
Cost: N/A Availability: Very Rare
The cathode gun is a nasty device designed by the City Mind to assist the Creators in their fight with the magic-wielding servants of the gods. Though quite fragile, the cathode gun was a popular weapon for high-ranking officers and specialized combat engines. The weapon builds a highly-focused charge of electromagnetic radiation, causing the bulb to flash brightly an instant before release. The crackling ray of energy is effective against both living and machine targets, frying synapses and circuits alike. One blast from a cathode gun is enough to reduce even the most brilliant mind to a state of catatonic vegetation in seconds. This brain-killing weapon is an example of the City Mind's cruel and efficient designs, meant to leave behind gibbering, drooling survivors to be collected by the enemy. These survivors would continue to consume resources, lower morale, and force other personel to care for them - the City Mind knew its enemy was a compassionate one. The cathode gun is especially effective against creatures with advanced minds, such as spell-casters. Ironically, it is just as effective against machine brains.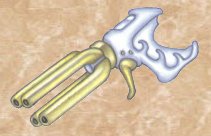 INCINERATOR
Manufacture: Creator
Composition: Ceramics, brass, fuel
Cost: N/A Availability: Very Rare
Another popular weapon among the front-line combatants of the great war, the incinerator was designed as both a defoliant and a way of destroying small airborn targets such as faeries, which were too quick and agile for the more precise weaponry employed by the Machines. The incinerator's four rotary pipes spewed jets of fire nearly thirty feet long, twisting them into a flailing, destructive braid that could fill a much greater surface area a single burst of flame. The weapon was very heavy, and usually reserved for armored shock troops protected from the deadly heat. The incinerators were used primarily in the destruction of buildings and magical texts, as well as the execution of creatures with regenerative qualities. The flames generated by this device were far hotter than conventional fire, and had a way of completely saturating their targets instead of just consuming surface combustables.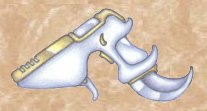 PIECE
Manufacture: Creator
Composition: Ceramics, gold, steel
Cost: N/A Availability: Rare
The piece is fairly small, light weapon that projects tiny metal darts at tremendous velocity, much like a crossbow. However, the shape and speed of the darts cause terrible wounds as they frquently blow clean through one side and out the other. Living beings of average size, even fully armored, can be killed outright with a single well-aimed shot to a vital area of the body, in particular the head area. This usually involves being relatively close to the target for the sake of accuracy. Unfortunately, larger beings suffer considerably less distress from such attacks, as do beings with nothing especially vital to destroy, such as undead. Another slight drawback is the rather loud bang that results when the weapon is discharged. Each piece contains an ammunition battery loaded with 2d6+1 rounds, as well as a short, curved knife blade for when opponents try to grapple the weapon away.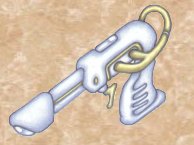 RAY GUN
Manufacture: Creator
Composition: Ceramics, gold, diamond
Cost: N/A Availability: Rare
One of the most dangerous Creator sidearms was the fabled ray gun, which generated a highly-concentrated beam of atomic energy to vaporize its targets. This was a weapon used only by the elite Creator High Command, and as such was highly ceremonial despite its awesome capabilities. The ray gun was often simply used for summary executions, and later, for suicide. When fired, a brilliant red beam of light was emitted from the spherical lens at the tip of the barrel, disintigrating any solid matter it touched. In truth, the ray gun was far more effective against organic targets, vaporizing small or medium-sized beings utterly, while blowing giant holes in anything larger. Against inorganic matter, it merely carved a pencil-thin hole in a straight vector from the tip of the weapon. Some of the deadliest machines, including Nigh, are mounted with similar disintigration modules capable of decimating larger targets.

FLAME ROCKET
Manufacture: Creator
Composition: Brass, crystal, solid propellant, explosive fluid
Cost: N/A Availability: Very Rare
Most common among the explosive missile weapons employed by Machines, the flame rocket was typically used to destroy structures and unprotected personel. When fired from its housing, the rocket would streak towards its target with a loud roar, trailing smoke and fire. Upon impact, it explode into a billowing cloud of flames, soaking everything in the immediate area with a mixture of flammable chemicals that burned far hotter than normal oil or pitch. Flame rockets were fairly volotile, however, and on occasion the Machines carrying them would explode if subjected to fire or electrical attack. Another drawback was the weapon's relatively short range (about 200 feet), as heat from the propellant would cause the flame solution to explode mere seconds after firing. Flame rockets are typically housed in hollow adamas blast tubes, which can be reloaded or discarded depending on the style of launcher. The ammunition is the same, regardless, and there is a 10% chance that any scavenged rockets will be duds.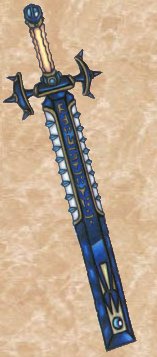 HAMMERBLADE
Manufacture: Skole
Composition: Adamas alloy, diamond
Cost: 1000 - 1500 Coin (often more) Availability: Rare
The skoles forge some of the greatest weapons on Rym, a tradition that dates back to ancient times, even before the Twilight War. One example of this masterwork is the great hammerblade - a sword capable of sundering any earthly thing. As is obvious from its graceless design, the weapon is designed for sheer power, meant to cleave through hide, armor, and even stone. Only the hottest of elemental forges can shape the black steel, making these blades very difficult to acquire, even for skoles. Most must be commissioned, crafted by a master blacksmith, and balanced for individual strength. Skoles may also receive one of these great blades upon completing a rite of passage, in which the sword in question is placed in the lair of some hideous beast, or at the top of some mountain, to be retrieved.
In the hands of a skilled warrior, the blade becomes a weapon of mass destruction. Six feet long and weighing as much as two hundred pounds, it requires a great deal of room to use effectively, but will just as readily smash through obstacles that constrict its deadly path. Far too heavy for effective thrusts, the weapon is instead based purely around a whirling, circular mode of attack, cleaving down anything in range. The only way to stop once velocity builds to deadly levels is to slam it into the ground - one of the reasons there's no trace of a point on the hammerblade. Even the handle is specially designed for this high-velocity combat, equipped with rows of bone 'thorns' which provide an excellent, if painful, grip. Skoles traditionally name their blades, though it is the weapon's maker who does the honors.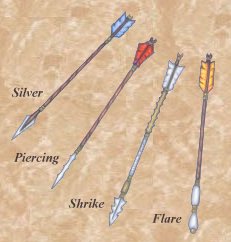 ELVEN ARROWS
Manufacture: Elven
Composition: Wood, feathers, metals
Cost: Varies Availability: Rare
Elves craft masterful arrows, to go with their superior bows and archery skills. Many of these are a great investment of time and resources, but the result is a fearsome weapon, enabling the elven archer to perform a variety of tasks. It is not uncommon for snipers to carry five or six quivers all over their bodies, with each type of arrow identified by a coresponding color of flights. Most of these arrows aren't available on the open market, though some gorgish dealers have been known to aquire them from time to time, for sale to Tamaran sport-adventurers.
Silver: These arrows are fairly common, as they are employed against undead and other creatures typically resistant to mortal weapons. Silver-edged arrows have a shaft of light yew, and have fairly decent penetration against flesh and sinew, but are of little use against heavy armor or thick hide. Cost: 2 Coin/arrow
Piercing: With a long, barbed steel head, this arrow is ideal for penetrating armor. Fairly heavy, piercing arrows are best used in medium to close range, and will punch clean through most conventional metal armors and even tight chain links. Piercing arrows are also used by snipers attempting to pierce a foe's skull for a killings shot. Cost: 4 Coin/arrow
Shrike: Even more deadly is the barbed shrike, an arrow designed to cause terrible wounds and bleeding. The thorned shaft also foils attempts to pull the arrow free once it's struck its target. With decent range and significant penetration, it is the standard issue of highly-skilled elven snipers. Cost: 8 Coin/arrow
Flare: Used both as a warning signal and a fire-starter, the flare arrow is tipped with a pair of ceramic capsules containing a binary explosive compound. When fired across a special flint stud on the bow's handle, the arrow is igited and detonates a second or two after release. The explosion is very loud and bright, but not especially powerful. Cost: 10 Coin/arrow
FISH SPEARS
Manufacture: Lutrai
Composition: Wood, bone
Cost: Trade Availability: Common
Lutrai contruct a variety of spears to catch the main staple of of their diet. These spears are typically constructed of bone, wood, and leather bindings, and aren't especially suited to anything more than fishing. However, on more than one occasion, the otter-folk have used these spears to defend themselves from slavers and others who would prey upon them. They are easy to handle in the water, and range in size and purpose, from small forks meant to catch gobi and rass, to large tridents capable of fending off a vicious shark. The contruction of these spears is quite simple, but effective, and most young lutrai will learn to build several kinds by their tenth year.
Fish Spear: Despite the fact that the otter-folk have an easy time catching fish with their bare paws, many make use of long, bone-tipped spears to catch their dinner. These spears are very long and light, not suited to combat or hunting, and are shaped to keep an impaled fish where it is once the blow is struck. Many of these spears are also equipped with a light cord tipped with a bone hook or shiny bauble, allowing the fisher to bait the area closest to his striking range. Lutrai will also keep a long, curved shell knife with their fishing spears, to slice off anything inedible.

Gill Fork: Lutrai are exceptional shark-hunters - those that don't get eaten by sharks, anyway. This particular spear was designed exclusively to deal with sharks, specifically by slashing and destroying the gills. The trident-like weapon is often tipped with a shard of enchanted, glowing crystal meant to distract the charging animal, allowing the lutrai hunter to dig the sharp bone tines into the soft breathing flaps with a well-aimed thrust. A short perpendicular handle is another common feature, which ensures a good grip when trying to keep a forked shark at bay. The weapon's haft is extra thick and flexible, allowing it to absorb heavy impacts and thrashing without damage.

Kelp Saw: Not all of these tools are meant for fishing. The bone-bladed kelp saw is used to harvest various types of seaweed, as well as prying out stubborn shellfish. Most will also serve for self-defense in a pinch, and will saw through rope and netting just as readily as it will kelp. Harvesting of this sort is seen as a rather boring activity, and is often assigned as a chore. Most young lutrai despise boiled kelp, too, despite its nutritional value.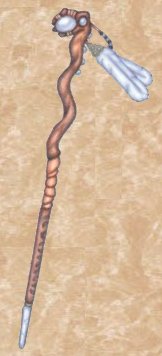 PEARL STAFF

Manufacture: Lutrai
Composition: Wood, pearl, feathers
Cost: Time Availability: Restricted

The pearl staff is the trademark of any tribal healer, a construction of talismans able to contain the very life energy of the planet. These staves are passed on from one generation to the next, and some have endured for centuries. While most are highly individualized, they tend to share the common trait from which the staff derives its name. Each is topped with the pearl of a giant oyster, a symbol of patience and adaptation that contains the majority of the staff's power. The staves always glow with a soft white radiance, and an aura of comforting warmth. Only lutrai healers are able to use such staves, though their valuable decorations make them a popular prize for raiders or slavers.

The pearl staff is actually a magical focus, designed to fully purify the energy upon which it draws. When applied to living beings, this energy mends damaged tissue, purifies toxins, and restores vitality - the more experinced wielders being able to invoke more impressive results. Against undead, however, the pearl staff is a tremendous weapon, bringing its radiant energy to bear with brilliant explosive bursts. These quintessant pulses disrupt the energy upon which the undead sustain themselves, and even those that survive a blow or two will find themselves terribly weakened. As they have little voluntary contact with the undead, however, the lutrai are largely unaware of this fact.