About Our Guests
We are honored to have the following guests this year at Consonance:
Filk Guest of Honor: Terence Chua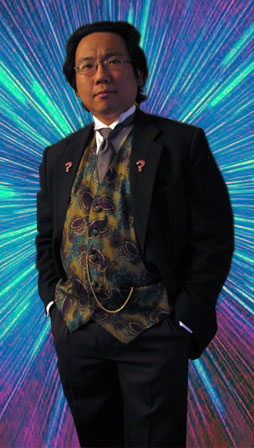 Terence was introduced to the filking scene at WorldCon '99, gaining notoriety for his ABBA-based Cthulhu filk. Terence has since moved on from that genre, gaining embarrassing amounts of praise for his writing, but like any good monster, calls for it will continue to haunt him through a thousand filk cons, screaming.
He was the Interfilk Guest at the 2001 Ohio Valley Filk Festival and will also be the Overseas Guest of Honor for Dixseption, the 17th United Kingdom Filk Convention to be held at Southsea from 4-6 February 2005.
Terence has been nominated for five Pegasus Awards in the last three years. He is hoping to break the record, shared by Talis Kimberley and Junita Coulson, of being nominated and not winning in six consecutive years, thus becoming the Susan Lucci of the Pegasus Awards.
Terence's first commercially-released CD, Fanboy Soul, will soon be released from Bedlam House. He is also the author of a short story collection, "The Nightmare Factory", which, alas, is no longer in print.
Terence hails from Singapore. He is currently in grad school at the University of Georgia at Athens, where he is studying history.
For more information about Terence Chua, visit his website by clicking here.
---
Interfilk Guest: Adam Selzer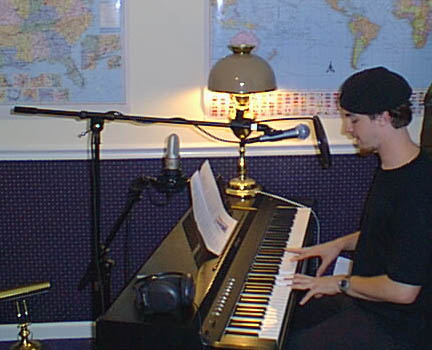 Adam Selzer is a man of many unprofitable hats: writer, poet, music critic, songwriter, pizza delivery man, and general lazy bon vivant. His second filk album, Worst Episode Ever was released in 2003, and will be follwed in 2004 by a studio album entitled Suburban Post-Modernist with his band, The Revolving Door All-Stars, which features such prominent filkers as Mary Crowell, Dave Rood, and Brian Richardson.
He joined the filk scene at 4am at Dragoncon in 2000, and has since racked up a string of solid-gold filk hits including "It Used to be a Cantina (but now it's a Starbucks)," "Uncle Herbert's Extra-Rowdy Funeral," "The Registration Line Gospel Song," "I thought She Was a Goth," and "Lucy Loves Lindoln", but has also had success with more serious songs, including "Lullaby in 12 Nursery Rhymes," "Polly Vaughn Dreams of England," and, more recently, "Valentine's Day," which was used in the English curriculum at the University of Georgia (a school which never would have let him in to begin with!)
Adam was born in Des Moines, but has spent the last nine years dividing his time between Atlanta and several small Georgia towns. Upon finishing his English degree in Spring 2004, he plans to move to Chicago. In the mean time, he wastes his time annoying rednecks at bar gigs, cooking "experimental gourmet" cuisine in his crock pot, and waiting for one of his books to sell.
For more information about Adam Selzer, visit his website by clicking here.
---
Extra Special Guest: Juanita Coulson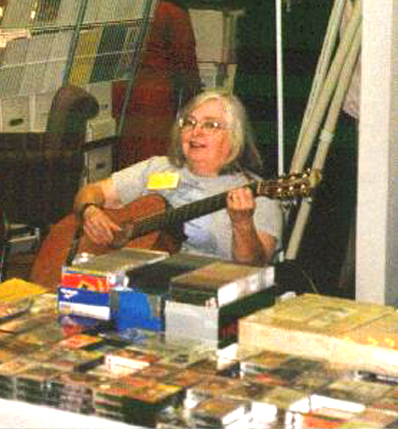 Photo by Joel Zakem
Consonance 2005 is proud to present Juanita Coulson, grand lady of filk, who was filking before most of you young whippersnappers were even conceived. Juanita could sing, dance, and play the piano by the time she was three. She writes, "At age 3 I was put up on a tabletop in a tavern and Daddy told me to 'entertain the boys' -- which I did with song and dance, after which they gave me candy."
Juanita began filking back in the early '50s, when filking was a few friends at a con hanging out in a hotel room and singing together. Her first filk recording, now long out of print, was a live recording made at Filkcon I, held in 1979 near Chicago. Known at the time as "The Filk Con", this was the first filkcon ever. Juanita says that the con organizers "wanted to capture me on tape while I still had a voice and the power to wield it". They need not have hurried.
Juanita is known both for writing original songs and for setting lyrics to music, including the historical poems of Martha Keller and the lyrics of her late husband, Buck Coulson.
Awards and honors? Juanita, the Den Mother of Filk, has plenty. Juanita and Buck won the 1965 Best Fanzine Hugo for their fanzine, "Yandro", which they edited together for over 30 years. Juanita and Buck were Fan GOHs at the 1972 Worldcon. Juanita was inducted into the Filk Hall of Fame in 1996. Juanita was nominated for Pegasus awards six years in a row, but hasn't won one yet.
Juanita's in-print recordings include "Past & Future Tense" (songs on historical and SF themes), "Juanita Coulson...Live!", and "What's A Hoosier?" (with Michael Longcor). In addition, she is the author of numerous SF novels, not to mention historical romances, mysteries, and an "astrological gothic"
For an interview with Juanita from Strange Horizon, visit the Strange Horizon website by clicking here.
---
Toastmaster: Blake Hodgetts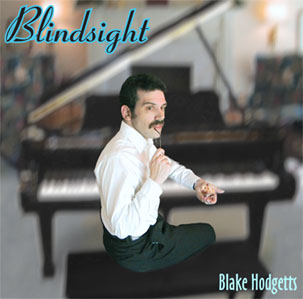 If you have attended Consonance recently, you have undoubtedly experienced the keyboard virtuosity and amazing songwriting of Blake Hodgetts. In the words of Jordan Mann, "There are songs that wrench the heart like 'Heroes of Flight 93' and 'The Inner Light', songs that soar like 'Great Nebraska Sea' and 'The Reader', and songs that are so vicious in their wit and warped sensibility like 'Hot Point/Warm Heart' and 'The Unsingable Filk' that by the end the listener is often reduced to a whimpering puddle on the floor."
You probably also know Blake as the driving force behind the annual (two years and counting) Consonance filk musicals. Blake's filk CD, Blindsight, released in 2003, contains 73 minutes of his best songs. (The kumquat does not roll far from the tree; his talented teenage daughters, Angelica and Athrylis Sather Hodgetts, also known as Ash Productions, released a "teaser" CD of their own material at Consonance 2003 and are rumored to be working on a larger project.)
Blake's introduction to filk came about when he was briefly living in Santa Monica during 2000-2001 and stumbled onto Los Angeles Filkers Anonymous while googling for song lyrics. After becoming a regular on the LAFA housefilk circuit, Blake began making a splash at West Coast conventions. He was finally convinced to travel far away and torment new listeners as the Interfilk Guest at the 2003 Ohio Valley Filk Festival.
In the real world, Blake makes his home in Eugene, Oregon, working variously as a semi-professional musician, beleaguered single parent, free-lance graphic artist and font designer, amateur linguist and Macintosh software engineer.
For more information on Blake Hodgetts, visit his website by clicking here.
---
Fan Fund Guests: Rand Bellavia & Adam English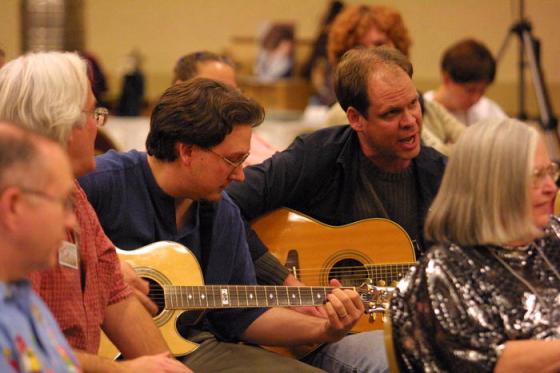 Image copyright Jim Leonard
Rand Bellavia and Adam English may be our most popular performers. Their adoring fans, who brought them to Consonance in 1999 and again in 2003, remain hungry for more.
In 2004 alone, Rand and Adam were guests at GAFilk, Toronto Trek and OVFF. They won their third Pegasus Award, this time for their song, "Arthur Curry".
You know Rand and Adam as the principal songwriters and vocalists of "Ookla the Mok". OtM has three in-print CDs: "oh okay LA", "Smell No Evil", and "Super Secret". We won't torture you by telling you about their CDs you can't buy any more. They also guest-star on cuts by Puzzlebox ("Tain't Neither") and Urban Tapestry ("Leftovers").
Everything else you need to know about Rand and Adam may be found in Debbie Ohi's excellent bio of them. Also check out the OtM fan site, which has lyrics, mp3s, and information on how to buy their CDs.