Diggiegg


While raiding the Bunny Ranch, Vicky decided to

use an Diggiegg to capture one of the Bunnies.

Unfortunately, it turned out to be the one her Brother

Angus had a date with. But he eventually did make

the date... Sort of...

Click here for larger image

Killer Queen


Mercy wanted pay-back against Vicky for the raid

on the Bunny Ranch so she agreed to be

transformed into a giant spider. She had a date

with Angus and decided to keep the date instead

of going after Vicky. On the up side she won

runner-up at Reno sci-fi con!

Click here for larger image

Naga


The Naga was found by Katy (The Bunny) and Vicky in

Kuanís garden. It turned out that the Naga was one of

Katy's sisters that was transformed as part of a

revenge plot against Vicky. It almost worked too until

Vicky got coughed up as a Hair Ball!

Click here for larger image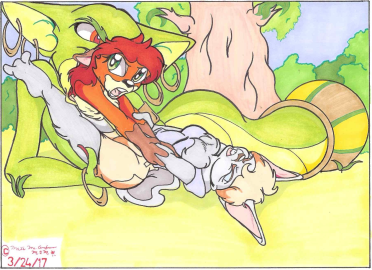 The Naga was the only one to more or less complete her mission in the Revenge plot
against Vicky. After "Voreing" she spit up Vicky as a Hair Ball. This made her the
only one to have any success in that she muddled up Vickyís hair.

Click here for larger image
The Witch Queen


In her Fantasy world, Eidy dreams of being

the Witch Queen of the Five Vallies (Old

style spelling) enslave all her sisters as her

minions of darkness and be feared by all.

Vicky had other ideas.

Click here for larger image

Big Sal


Big Sal was part of a Revenge plot against

Vicky for the raid on the Bunny Ranch. At

first glance, you'd think she was a

Franken-bunny but you'd be wrong. Sal

was just a REALLY BIG Bunny that wanted

her very own Doggy. Didn't quite work out.

Click here for larger image

Characters and Art © 2001-2021 by Matthew McAndrews unless otherwise noted
Website © 2001-2021 by Karl Maurer.